For many across the U.S., December means holiday celebrations, and New Years Eve. For those of us in marketing, it means market forecasting. With the upcoming consumer electronics shows, many in consumer marketing are getting excited and anxious to discover the latest in market trends.
One space that gets tons of coverage is consumer technology, as we've heard different geeks talking for years about trends like wearable technology, the latest social media platforms, and innovations in user friendly experiences.
One industry that doesn't get as much press? Adult beverages. And we think that's wrong, considering wearable beer tech has been around for decades.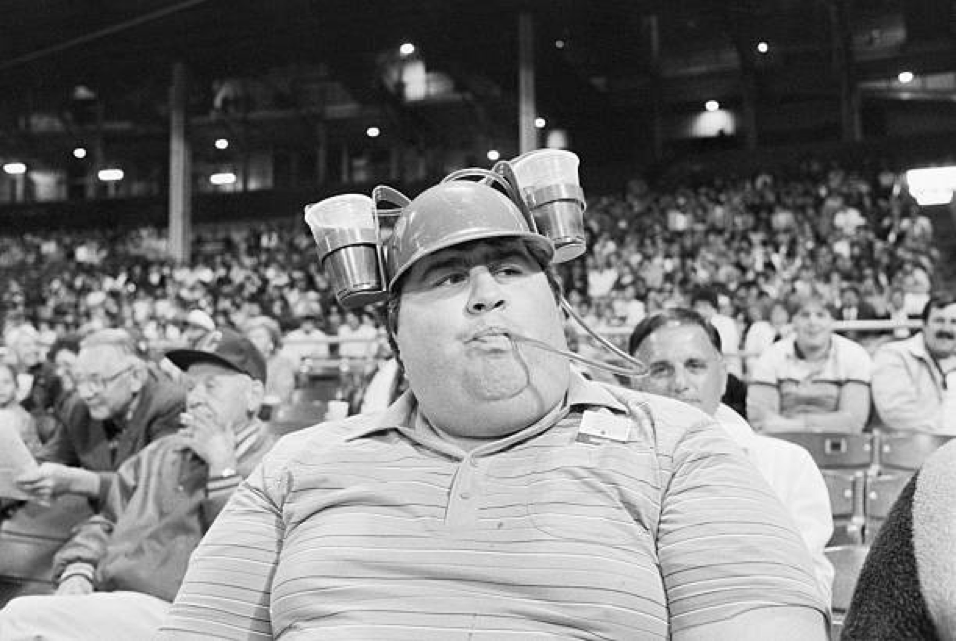 While this wearable technology (and the gentleman wearing it) isn't nearly as sleek as the latest installment of the Apple Watch, it's still important for us as marketers — and you as adult beverage crafters — to make bold predictions about where the market is headed. That's why we've gathered the research, pored over the data, and served up our market predictions for 2018.
Lagers Make a Comeback
This title excites us, because the classic lager has become underappreciated in the age of IPAs. The lager as a category has had its brand tarnished by generic domestic brews, but there's a reason this delicious style is becoming popular: many consumers want to enjoy craft beer, but are turned off by bitter IPAs.
Jeff Browning, brewmaster for Brewport, a 15-barrel beer pub in Bridgeport, Connecticut, says, "We're seeing an upswing in sessionable beers. Anything English, and pilsners. Every brewery has a pilsner now. Five years ago, nobody had a pilsner." Lagers are a great way to ease into the craft beer scene, and we're eager for more people to join the movement!
Whiskey Renaissance
We were already excited for a new year, but data suggesting that trends in whiskey will emerge are raising our anticipation for 2018. Oats in mash is going to change the way that we appreciate the brown liquor, says Distiller Gene Marra. "We love the complexity and added creamy dimensions that the oats impart," Marra says. "We don't just want sugar and honey in the mouth, and burnt sugar in the finish—we want vanilla, clove, allspice, burnt caramel, crème brûlée and more obscure notes. That's what you get from the oats."
Adding to the whiskey revival, a trend that certainly carries over from 2017, is younger spirits, thanks to the increased demand for the product, and the difficulty in aging a spirit for more than a few years. As a result, we're seeing distillers innovate in different ways, from aging at lower proofs, to changing their mash to accommodate. We're going to trust that these distillers know how to make a great product, and we're excited to give it a try.
Sparkling Wines
"Strawberry Champagne on ice / That's what I like." Bruno Mars is not who we usually go to for market factor analysis, but the pop singer hit the nail on the head with this line. Starting in the end of 2017, we've seen wine change completely, from a once aristocratic beverage to a category with a diverse lineup from all over the country. In fact, we even wrote about it once! Premiums brands like Canti nodded to Mr. Mars with their latest product offerings, creating a line of Prosecco's that are designed to be served over ice!
The move is good for Canti, who hopes to penetrate new markets with a more accessible wine, while predicting a whopping 24 million bottles to be sold!
What it Means For Creators
We're not suggesting that every winery starts making a delicious new fizzy, but it is important to understand your competition, and what your consumers are drinking. At Wier and Bein, we take our time to discover your unique consumer's behavior, and how we can effectively tell your story to them.
---
If you'd like to get in touch with the obsessive minds at Wier and Bein, contact us today to get started on your free consultation!